Wir wollen am Ball bleiben und Gelerntes teilen.
Anstehende Veranstaltungen
Derzeit haben wir keinen Vortrag geplant.
Interesse, dass wir einen Vortrag bei dir halten?
Werbeanzeigen auf Facebook und Instagram zur Gewinnung von Kundinnen und Kunden.
Wer schnell viel Aufmerksamkeit will, kommt an Social Media oft nicht vorbei. Im Business Kontext eignet sich Social Media Advertising, also das bezahlte Werben auf Facebook und Co., besonders gut zur Erhöhung der eigenen Bekanntheit sowie zur Stärkung der Kundenbindung. In diesem Webinar lernen Einsteiger die Grundlagen der Anzeigenerstellung mit dem Facebook Business Manager kennen.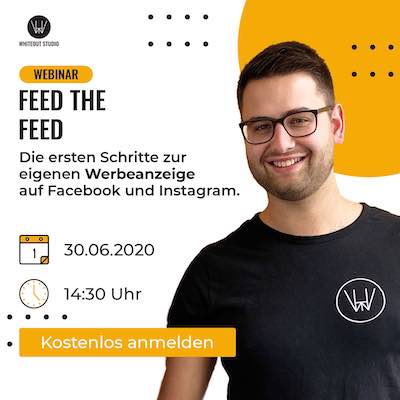 Die ersten Schritte zur eigenen Werbeanzeige auf Facebook und Instagram.
Von der Strategie bis zur Umsetzung: Social Media hat seine eigenen Gesetze. Im Webinar erhalten Teilnehmer:innen einen Überblick über Dos und Don'ts bei Profilpflege, Postingplanung und Content-Generierung. Und dazu praktische Tipps zur Performanceanalyse. Webinar für Pros und Newbies.
The start of something new?
Das neue UX-Buzzword Neumorphism treibt sein Unwesen – doch was hat es damit auf sich und welche Bedeutung hat es für zukünftige UX Designer:innen?
Beim #nmfka der Netzstrategen geben wir einen Einblick in die Theorie des UI Tools und erörtern, was Augmented Reality mit der neuen Designsprache zu tun hat.
Unser Vortrag beginnt ca. bei Minute 35:00.
Du hast eine Projektanfrage? Dann melde dich für dein kostenloses Erstgespräch!
Adresse
Alter Schlachthof 57
76131 Karlsruhe
E-Mail
info@whiteoutstudio.com